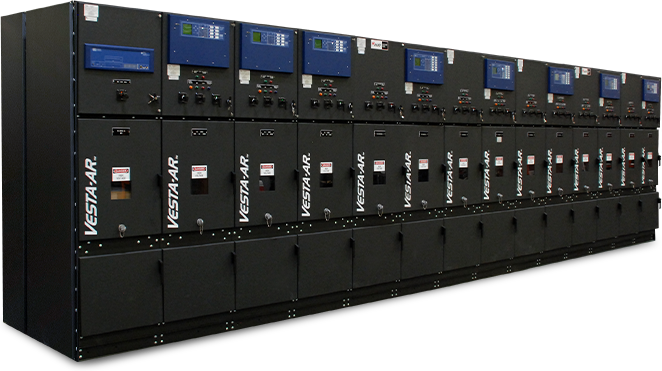 ---
Do you have a need for a medium voltage (5 kV – 15 kV), arc resistant, compact metal clad switchgear for your data center, marine, critical health care, or another type of facility?
In the past, you may have found that solving this multi-dimensional footprint and optimization problem was a real challenge. Well, not anymore.
IEM offers a solution that simultaneously addresses your ANSI/IEEE/UL design challenges and compact footprint in a front accessible switchgear – IEM's Vesta-AR metal-clad, arc-resistant switchgear.
High-level features of Vesta-AR include:
Front accessible
Target Size: 24"W x 60"D x 96"H
Arc resistant, class 2A
IR viewing ports and viewing windows
Front accessible 600V CTs and front connected cables
Draw-out Breaker (magnetically operated VM1), PT and CPT
Insulated Bus
UL and cUL listed per ANSI / IEEE standards (metal clad and arc resistance)
High-level benefits of Vesta-AR include:
Full front accessibility for cable connections and current transformers (CT) ensures ease of maintenance, minimal usage of floor space and creates a safe environment.
Front and rear viewing windows allow complete access to viewing of the bus bar compartment for maintenance to assess any signs of overheating of the bus.
Front and rear infrared viewing ports allow maintenance personnel to easily access thermal monitoring of the equipment without having to open the enclosure.
IR technology ensures the operators safety while assessing the equipment's internal components for possible overheating.
Fully reinforced and sealed joints, hinges and latches, which reduce the risk of damage to maintenance personnel and other existing equipment in the event of an arc flash.
To Learn More
Download our free VESTA-AR Medium Voltage Metal-Clad Arc-Resistant Switchgear white paper.
---