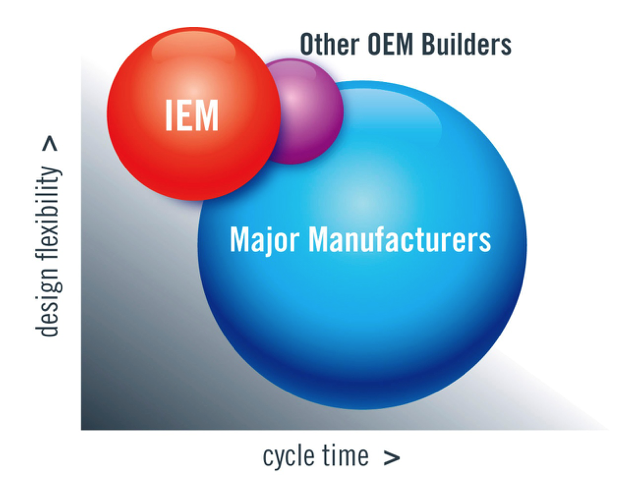 ---
IEM has been solving power distribution challenges for HP, Apple, and dozens of prominent companies since they were start-ups.

We developed a groundbreaking version of the medium voltage vacuum breaker in the 1980's, pioneered the use of breakers on 21kV systems, and was the first to design a 3000A free standing breaker for utilities.

In addition, we pioneered the use of fully integrated CAD and manufacturing systems, beginning in 1979 with the first CAD/CAM system for electrical equipment metal fabrication.

This level of tradition, technology, and innovation is – in part – a byproduct of our unique ability to combine power equipment manufacturing design flexibility with short cycle times to produce custom solutions that our customers demand.
What Kind of Customer?
Here are just a few of the companies that have benefited from IEM's unique combination of skills, products, and services:
Abbott Laboratories
American Online (AOL)
Apple
AT&T
Chevron Corp.
Cisco
Cox Communications
Digital Reality Trust
Dupont Fabros
Google
Hewlett Packard Co.
IBM
Intel Corp.
Kaiser Permanente Medical Center
Lawrence Livermore National Lab
Lockhead Missles and Space Co.
McCarron Int'l Airport - Las Vegas
Metro Atlanta Rapid Transit (MARTA)
Microsoft
NASA
National Semiconductor Corp.
Oakland International Airport
Oracle
Pacific Gas & Electric Co.
Port of Oakland
Qwest
San Francisco International Airport
Siemens Transportation
Sprint
Stanford University
Sun Micro Systems
United States Navy
University of California, Berkeley
Vantage Data Centers
Verizon
Yahoo!
Whether it is arc-resistant switchgear, panelboards, switchboards, low or medium voltage switchgear, paralleling switchgear, custom assemblies, systems-monitoring, or 38kV metal clad switchgear, we have the sought-after products and solutions for industries ranging from technology, to energy, to healthcare, to industrial, to marine, to institution, to utilities, to government, and more.
Check Us Out
To learn more about all that IEM has to offer, download our free 29-page Company PowerPoint.
---