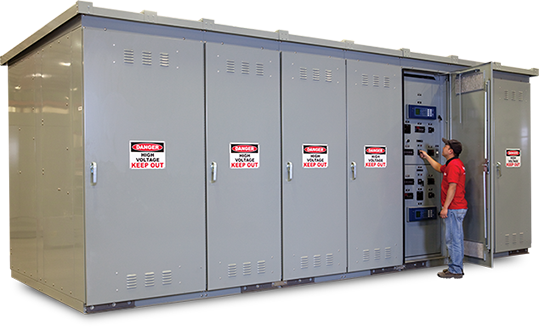 ---
Standards Worldwide
Medium voltage switchgear cabinets available in markets such as Europe and Asia are built according to the International Electro-technical Commission (IEC) standards. However, these switchgear cabinets have cable connection in the rear making it very difficult to install and service such equipment. In addition, this switchgear utilizes "bar" type current transformers that are mounted in the rear making it impossible to replace in the field if they fail. And per IEC standards, barriers between compartments are not a requirement, so cooling the circuit breaker is much easier.
Standards in North America
Medium voltage, metal clad switchgear for the North American market need to meet stringent requirements of Institute of Electrical and Electronics Engineers (IEEE) and American National Standards Institute (ANSI).
Design Challenges
As per these standards (UL testing is done to meet this standard), the circuit breaker is tested inside the switchgear with very limited cooling and therefore limiting temperature rise becomes a major challenge.
IEC designed equipment would have to be derated significantly if no changes are made to adequately cool the breaker.
In addition, IEEE / ANSI designed equipment requires the bus bars to be insulated, making it more difficult to cool the critical current-carrying bus bars in certain compartments of the switchgear housing the circuit breaker.
Alternatively, expensive heat sinks have to be employed to limit temperature rise.
The addition of heat sinks is a difficult task in the compact space and poses significant challenges to pass the required lightning impulse test due to space limitations and the shape of the heat sink.
The shape of the heat sink can pose a threat to the space limit, as sharp edges of the heat sinks will require large spacings and creepage distances.
Compact switchgear also limits the space between phase-to-phase and phase-to-ground which poses significant challenges to pass the required lightning impulse test at 95 kV.
Compact Foot-Print
Compact foot-prints pose significant design challenges to be able to accommodate conflicting requirements. For example, lightning impulse tests at 95 kV required larger phase-to-phase and phase-toground spacings that compact foot-prints did not allow. Also, providing adequate cooling at rated currents required larger space and better air circulation that was not possible in a compact design. Adding to the design challenge was the fact that the switchgear had to meet arc testing requirements which dictated that the switchgear was efficient in the way the arc was exhausted.
The IEM Difference
IEM Vesta – Our compact, arc resistant metal clad switchgear made right here in North America.
IEM Vesta switchgear is UL and cUL listed and represents one of the smallest foot-prints on the market. This challenging switchgear design was completed through extensive simulation and testing. Front access to CTs was a challenging design problem that was solved through an innovative design of the insulator assembly. Also, epoxy coated bus is a standard feature on Vesta, along with IR windows and viewing windows.
Various configurations are available to accommodate different custom switchgear requirements. In addition to front access assembly, Vesta is also available with front and rear access in 72" deep switchgear.
To Learn More
Click on the button below to learn more about IEM Medium Voltage Switchgear and to select any of the 12 PDF and Datasheets available on the page.
---