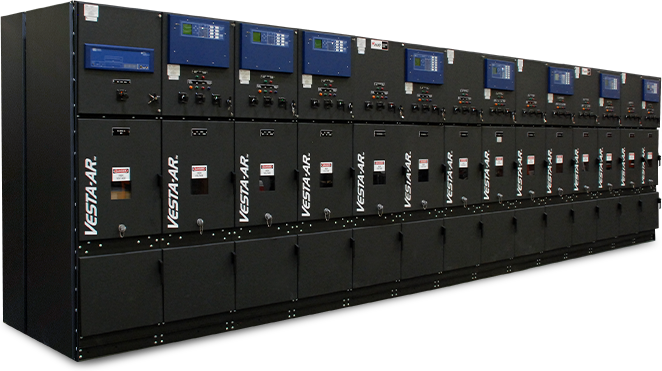 ---
A clear need exists for medium voltage, arc resistant, compact metal clad switchgear. Data centers, hospitals, and marine facilities all have need for equipment made to handle medium voltage while taking up very little space.
So far, that need has not been filled, but identifying the challenges present can clear up the picture considerably. Here are two of the most common challenges.
1 – Balancing Size and Safety
Medium voltage switchgear houses electrical components like circuit breakers and various transformers, and can typically occupy a large space as a result. It's not uncommon for an entire room of a given facility to be dedicated to medium voltage switchgear equipment, an inefficient use of space, especially for those facilities where space is an absolutely a critical consideration.
But simply housing medium voltage switchgear in a smaller space or configuration is not always a workable solution. National building code for switchgear requires a certain amount of space between adjacent equipment and structures. Furthermore, to minimize potential damage in the event of an arc or explosion, appropriate spacing is a must.
Balancing this need for appropriate space while minimizing inefficiency is a key challenge for medium voltage switchgear.
2 – Overcoming Different Design Requirements for Different Markets
Navigating design requirements across international markets is also a significant challenge.
Medium voltage switchgear cabinets in Europe and Asia are built to meet the international Electro-technical Commission (IEC) standards and have certain design considerations as a result. Switchgear cabinets made for North American markets, however, need to meet the stringent requirements of the Institute of Electrical and Electronics Engineers (IEEE) and American National Standards Institute (ANSI). Equipment made to meet IEC standards may not meet IEEE and ANSI requirements and significant design changes may be necessary as a result.
Learn More
Navigating the differences in equipment designed for different markets while balancing design considerations for size and safety can be significant challenges and shouldn't be taken lightly. For more on how these issues can affect your design decisions and what can be done to overcome them, download our whitepaper New Arc Resistant, Compact Metal Clad Switchgear: Meeting ANSI / UL Design Challenges today.
---