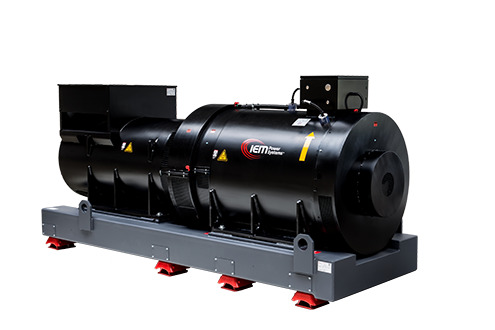 A UPS is more than you might think
An uninterruptible power supply is a critical resource for data centers, government buildings, hospitals, research facilities, and other buildings that require continuous, unvaried power to operate at their best.
Unfortunately, traditional power grids often can't reliably supply the kind of power these facilities need. These grids are too susceptible to power fluctuations or outright outages to be counted upon. Consider the damage that could result from an air traffic control center experiencing even a 30-second gap in its power supply.
Uninterruptible power is clearly a vital part of the modern electrical system. But what problems does it really address and how?
Uninterruptible power means more than avoiding outages
A power outage is the most obvious example of "interrupted" power, but it's not the only problem that uninterruptible power aims to solve. Electrical issues can also include sudden voltage spikes or drops, unexpected noise or harmonic distortion in the system, and general power instability.
In addressing these issues, it can be helpful to think of an uninterruptible power supply (UPS) as "smoothing out" the power supply. It's not just making sure a facility has continuous power; the uninterruptible power system ensures a given building as a consistent, reliable, stable source of power no matter the situation.
How does UPS work?
There are several different types of power supplies in common usage today, but one of the oldest and most reliable configurations is a rotary system.
These UPS varieties generate their power with a high-mass spinning flywheel, using the momentum of the wheel to ride out short term power outages, spikes, or drops. When a power issue arises, energy stored in the flywheel is released to the generator, which in turn drives the power supply until the main power generation system takes over.
These main systems come in two main varieties for rotary systems: battery and diesel. While battery systems rely on large chemical batteries to take over the power generation after the flywheel initially kicks in, diesel systems use diesel engines. Diesel rotary uninterruptible power systems generally offer higher reliability in a smaller footprint with fewer components.
The IEM Power Systems Rotabloc RBT UPS
Rotabloc UPS is perhaps the best example of a high-quality diesel uninterruptible power supply on the market. Offering total power failure protection with robust rotary technology, the Rotabloc RBT is a highly efficient, highly reliable power system.
The Rotabloc RBT is so efficient that 90% of power failures won't even require its diesel power, saving users money. It interfaces seamlessly with existing power systems and doesn't even need to be shut down during maintenance.
Learn More
To learn more about how the Rotabloc RBT can meet your power supply needs, click here or contact IEM Power Systems today.
---