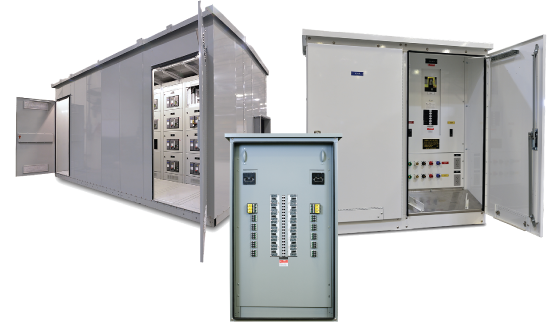 ---
Who Needs Custom Assemblies?
For the most part, it is companies that find themselves needing a unique design and manufacturing capability in order to integrate various electrical and power components, and integrate those products into a single assembly that is specifically suited to a defined purpose.
In these situations, the right custom assembly process eliminates the need to compromise or combine several products from various manufacturers into a less than ideal solution.
Common Custom Assembly Applications
Common applications include:
Walk-In Enclosures to protect power distribution equipment in outdoor applications
Marina Substation for inland and coastal environmental applications
Generator cable tap boxes that can safely connect a stand-by power circuit breaker with a portable generator
Emergency Fused Coordination Panels
Walk-in Enclosures
When custom designing Walk-in Enclosures, look for the following:
Manufacturing flexibility for any size layout or configuration

Can be shipped in one unit with no assembly on site required

Includes installed and wired equipment to match your specific application

Custom paint and sheet metal fabrication options per application
Marina Substations
When customizing for Marina Substations, look for things like:
Single and three phase models

Double wall construction

Ground fault monitoring system

Up to 1200 Amp main circuit breaker with 16 single

phase branch circuit breakers

Marine grade aluminum enclosure
Generator Cable Tap Boxes
Generator Cable Tap Boxes should offer:
Ratings for 600A applications at 240V or 480V

Wall mounted/pad mounted

Free standing

Lug and cam lock connections available

Power meters
Emergency Fused Coordination Panels
And finally, for Emergency Fused Coordination Panels, look for:
UL or CA listed

Coordinated emergency loads

Main breaker, main lugs, subfed breaker options

Voltage: 120V – 600V; Ampacity: 250A and 400A

65kA at 480V
The IEM Difference
Our fully rated bus is based on density ratings, not UL heat rise tests, resulting in more bus and lower operating temperatures.
All enclosures are designed for specific application with improved dimensional flexibility, and finished using state of the art powder coating system providing an indoor finish that exceeds the 1500 hour salt spray testing requirement for outdoor equipment to 3000 hours.
And finally, our component and metering selections are based on value engineering for the application and optimized to meet specifications.
To Learn More
Click on the button below to get our free Custom Assemblies Datasheet and learn what you need to know to help advantage your business.
---